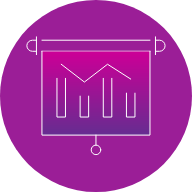 You Manage What You Measure
Continuous improvement in business performance and results, while striving for excellence and improving service, are key challenges facing organizations and companies in the business and public sectors.
is part of the configurable UI for incentive and commission modeling. It allows the authorized user to create the required measures and KPIs, based on the incoming data into the system, on-line and dynamically through the intuitive UI.
Comprehensive and effective handling of retroactive transactions, providing insurance agents or sales rep with full transparency and visibility, through dedicated screens, to previous history periods and their corresponding corrections transactions due to adjustments.
JOOPY provides organizations with reporting and graphical dashboards tools. JOOPY's HTML5.0 GUI and the Portal actually serve as an ad-hoc reporting environment for organization and employees' information, transactions, cases and commission models. JOOPY also provides intuitive dashboard builder, graphical widgets definition environment and reports builder, which enables authorized users to easily create customized business insights, according to organization's needs.