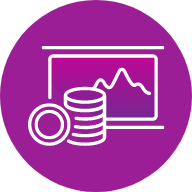 A goal without a plan is just a wish…
Cloud-based or on-premise Employee Centric SPM platform for SMB and Enterprise.
More Powerful capabilities, better transparent for the employees and high connectivity SPM platform.
Sales Channels Management
01
to reduce operating expenses. Attain increased agility and flexibility to achieve immediate time-to-market results.
Go JOOPY is the mobile app of JOOPY, available on iOS and Android smartphones, and provides each sales rep and manager with great transparency and control over personal achievements, as well as the gamification picture to increase personal and group motivation and achievements.
Organization/Sales channels' data can be automatically imported from any external system within the enterprise's eco backbone, such as a CRM or HR. If required, sales channels' data can be loaded through an Excel file.
JOOPY provides organizations with reporting and graphical dashboards tools. JOOPY's HTML5.0 GUI and the Portal actually serve as an ad-hoc reporting environment for organization and employees' information, transactions, cases and commission models. JOOPY also provides intuitive dashboard builder, graphical widgets definition environment and reports builder, which enables authorized users to easily create customized business insights, according to organization's needs.
For approving calculated commissions, disputes and changes in commission rules, JOOPY provides configurable workflows which enable the organization to easily reflect the currently used internal business processes.
JOOPY provides a case management functionality which enables a sales channel or a sales rep to open a dispute or another type of case which is required. A dispute can be raised in case of a disagreement with the calculated commission or missing transactions. JOOPY provides a configurable workflow, to represent the organization's business processes for dispute resolution.
Simulation and What-If Analysis
07
JOOPY provides the ability to care a simulation in which the organization can simulate or mimic as many scenarios as needed, to ensure its margins are optimized prior to the deployment in the production environment. In addition, a personal simulation is included in the Portal to provide sales channels with a 'what-if' analysis on their individual sales.