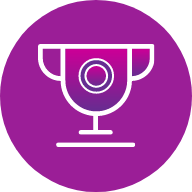 Creating goals and complex bonus plans with ease.
Strategic programs that have goals and bonus plans have a powerful business impact when properly designed and executed. Complete configuration and implementation are enabled through the JOOPY Merit, for senior management and all organization employees.
Sales Channels Management
01
Manages the organization's different sales channel types (Internal and Resellers/Retailers) with their organizational hierarchies and attributes. JOOPY sales channel management module can synchronize with any external Human Resources (HR) and Resellers Data Warehouse or manage all channels internally.
is part of the configurable UI for incentive and commission modeling. It allows the authorized user to create the required measures and KPIs, based on the incoming data into the system, on-line and dynamically through the intuitive UI.